Yellowstone Winter 2013
Yellowstone Winter – Old Faithful & Lamar Valley
Dates: January 23 – 29, 2013 (7 days/6 nights)
Locations: Gardiner, Old Faithful Snow Lodge
Tour size: Cindy plus 6 people
Cost: $ 3,125.00 per person single, or $ 2,400 per person double
__________________
Optional Add-on: Jan 31 – Feb 1, 2013. Adobe Lightroom Workflow Workshop in Bozeman.
Cost: $300 (Normal rate $350)
__________________
Steaming geysers, ghost trees, frosted bison, howling wolves, fog shrouded landscapes, icy waterfalls, fascinating abstracts …. this all-inclusive tour is designed to showcase Yellowstone's diverse wonders at their Winter best. The Full Moon on the 26th will add a magical element to that experience. It includes two full days touring the interior of the park in our own private snowcoach, three nights at Old Faithful Snow Lodge (OFSL) and concludes with 1½ days in the Lamar Valley, the Serengeti of North America. There will be opportunities to snowshoe around Old Faithful and Lamar. Also, bring with you ten images of your choice for discussion and critique on the evening of Day 5.
Details:
The Tour is guided and instructed by Cindy. In order to maximize our chances of photographing wildlife, we will be driven by a professional naturalist and wildlife spotter while traveling in both snowcoach and van. Both vehicles are 12 passenger vans providing us with ample room for 6 participants and gear.
Day 1 – Wednesday January 23
4:00 pm: I will pick up participants in Bozeman and we will travel together through Paradise Valley, stopping for a fantastic welcome dinner at the renowned Chico Hot Springs Resort. Bring a bathing suit if you like! After dinner we will head to Gardiner and check-in at the Super 8. Equipment check and Digital Lecture/Slideshow.
Day 2 – Thursday January 24
7:10 am: Depart Mammoth Terraces in our private snow coach, via the east roads to OFSL, for sunrise on Swan Lake Flats, Hayden Valley, Upper and Lower Falls, Mud Volcano, Lake and sunset at West Thumb. Check into OFSL. 8:00 pm Dinner and overnight at OFSL.
Day 3 – Friday January 25 

Old Faithful sunrise, frosted wildlife, we will spend all day exploring the wonders of the Upper Geyser Basin. Perhaps Castle or Old Faithful will erupt with the full moon rising. 7:30 pm Dinner and overnight at OFSL.
Day 4 – Saturday January 26 

One more day exploring the wildlife, landscapes and winter birds found in the Upper Geyser Basin.
8:00 pm Dinner and overnight at OFSL.
Day 5 – Sunday January 27
7:30 am: Pick-up at OFSL by private snow coach. Sunrise at West Thumb and then we work our way back to Mammoth via the west roads: Firehole River, Midway Geyser Basin, Lower Geyser Basin, Madison River, Norris Geyser Basin, and sunset at Swan Lake Flats. Check into Super 8. 7:00pm Dinner at the Yellowstone Mine Co. Image discussion and critique.
Day 6 – Monday January 28
6:30 am: Depart Gardiner and travel to Lamar Valley. Spend the day on the Northern Range, abstracts, wildlife, snowscapes. Overnight Super 8. 7:00 pm Dinner at the Yellowstone Mine Co.
Day 7 – Tuesday January 29
Sunrise on the Mammoth Terraces and then head towards Blacktail Plateau or the old road for wildlife until 11:00 am or so. Depart for Bozeman after lunch and then to the airport or your Bozeman Hotel by 2:00 pm.
__________________
Tour Includes: Field and evening instruction with Cindy – as much or as little as you wish! Transportation from Bozeman to Yellowstone and back; welcome dinner at Chico Hot Springs; Park entrance fees; single accommodation lodging at both Gardiner and Old Faithful Snow Lodge; private snow coaches and drivers for two days, and transportation to/from Lamar Valley for 1.5 days. All meals are included with the exception of dinner on Days 5 & 6 in Gardiner.
Tour price does NOT include: Round trip transportation between your home and Bozeman; Snowshoe rental; Dinner on Days 5 & 6 in Gardiner; Alcohol with meals with the exception of at Chico Hot Springs on Day 1.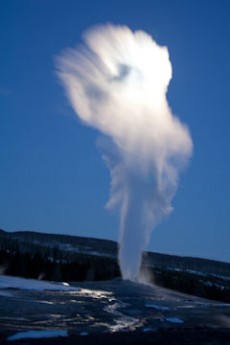 Winter in Yellowstone