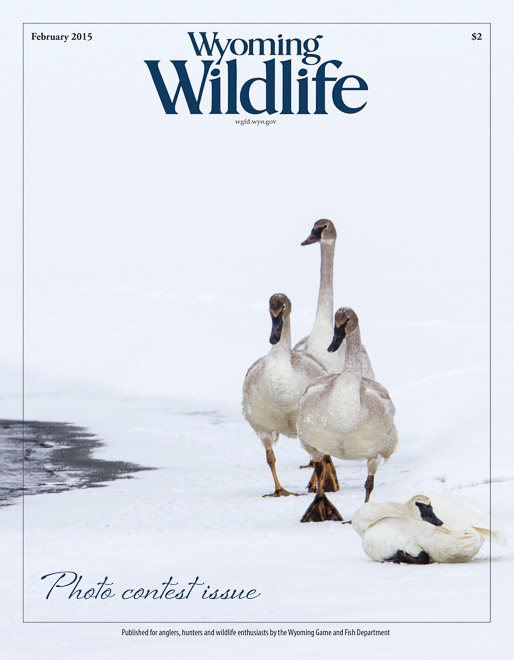 Wyoming Wildlife 2015 Photo Contest Cover

'HONORABLE MENTION & JUDGES' SELECTION FOR COVER PHOTOGRAPH' in the 2014 Wyoming Wildlife Photography Competition.

Winter Trumpeter Family Portrait
A family of trumpeter swans take a rest near a stretch of open water in Hayden Valley on the Yellowstone River, Yellowstone National Park. Winter in Hayden Valley ushers in more than negative temperatures and deep snow, Trumpeter Swans arrive, trumpeting as they alight on the open stretches of the Yellowstone River. There is a stretch of river called the conveyor belt, a football field size of open water surrounded by the vast frozen landscape. Here waterfowl are known to gather and are often seen floating to the end of the open water only to fly back upstream and float down again. Hence the nick-name.

In February of 2014, I was leading a photography workshop when we spotted this family of 5 Trumpeters resting beside the open water. It was a frigid day, the temperature hovering just below zero. We drove 200 yards past the swans before we exited the snow coaches and set up our cameras by the vehicles so as not to disturb them. Ten photographers, in single file, moving as one, slowly and quietly walked towards the swans. As we approached, I watched the swans for any signs of disturbance. At 75 yards, I motioned for everyone to stop and then for everyone to slowly kneel and photograph. After 15 minutes or so, we rose in unison and walked another 25 yards towards the swans and again photographed. Finally, after about 30 minutes, we were only 25 yards away from the swan family. Not once had one of the swans moved or looked bothered. After another hour photographing them, we finally left them as we found them - resting.

We quietly started back towards the snow coaches and just as we started loading, we saw the swans had gotten up, shaken the ice off their feathers and were moving. So once again we lined up and like a choreographed string of bulky slow dancers, we moved closer to photograph the scene you see here.