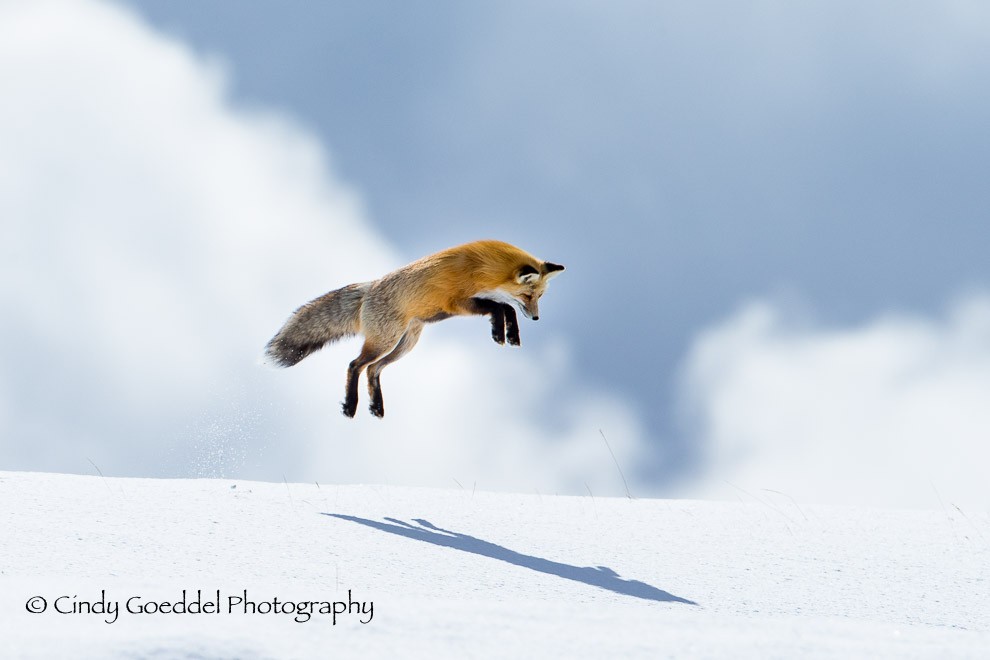 Peter Pan's Shadow

BEST IN SHOW in 'Showcase 2016' of the North American Nature Photography Association (NANPA), Mammals Category.
GRAND PRIZE in the 2015 Wyoming Wildlife Photography Contest, Wildlife Category.

'Peter Pan's Shadow'

A Red fox (Vulpes vulpes) performs a spectacular mousing jump in Cindy Goeddel's image made at Hayden Valley, Yellowstone National Park, Wyoming, in February 2015. Red foxes are thought to use not only their acute sense of hearing to pinpoint the exact location of their prey under the snow, but also to employ the Earth's magnetic field as a rangefinder to plot their trajectory. This fox perfected its aim by using its plumy tail as a rudder.

Goeddel's camera was a Canon 1D Mark IV on a tripod with a Wimberley head. She used a Canon 500mm f/4 IS lens plus 1.4 TC III, ISO 400, f/8 at 1/2000 sec.