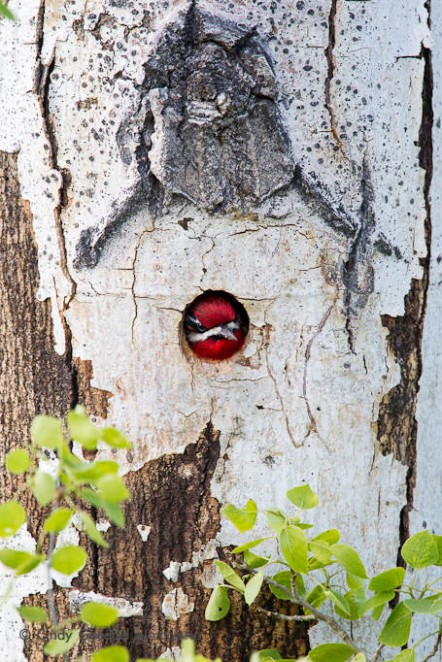 Red-naped Sapsucker in Nest Cavity

One of the TOP 250 IMAGES in 'Showcase 2015' of the North American Nature Photography Association (NANPA).
'TOP 100 IMAGE' in the 2012 Audubon Magazine Annual Photographic Awards.

Red-naped Sapsucker checking out his exit strategy.

A driller and steward of sap-wells, an adult Red-Naped Sapsucker, also known as the "Aspen Sapsucker", peers out of its nest cavity after making a delivery of sticky insects to the noisy, insatiable chicks inside. The cavity was in a mixed Aspen, Cottonwood, Coniferous riparian habitat in Wyoming, where I enjoyed watching and photographing this pair of woodpeckers for several hours whilst they continually hunted insects to feed the chicks tucked safely inside an aspen cavity excavated earlier in the year. Extremely active in summer, with chicks to raise, this species is also adept at nabbing insects from the air or plucking them from branches.