Blog
Mar 2nd, 2015
I just wrapped up the fourth Winter Yellowstone workshop of the year. Most participants were repeat offenders and everyone had a successful and enjoyable time. Perhaps forced winter death marches, carrying heavy artillery, while being bullied into being a better wildlife photographer is addictive!
Despite the pain, in addition to the usual winter suspects, including trumpeter swans, bighorn sheep, bull elk, moose, bison, pronghorn, eagle, otter, songdogs and sundogs, there were four exceptional photographic opportunities that deserve a special mention.

Cougar Creek Pack Wolves along the Madison River.

Bird activity alerted us to a bull elk carcass in the Madison River. Settling in amongst the trees we quietly photographed ravens jockeying loudly for position on the antlers, and eagles perched on snags. Suddenly, Bob B. whispered "wolf !"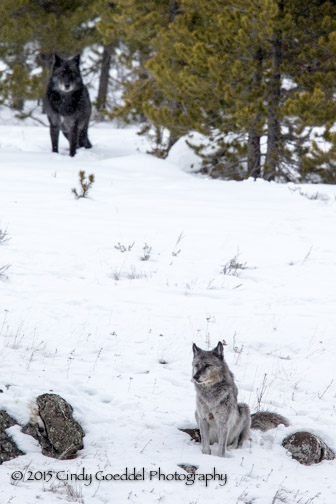 Sure enough, a beautiful smoky gray wolf was on the opposite bank and behind her a very cautious black wolf. The grey proceeded towards the carcass while the black turned back and disappeared as quietly and quickly as he had appeared. The grey entered the river and gave us an unforgettable photographic encounter.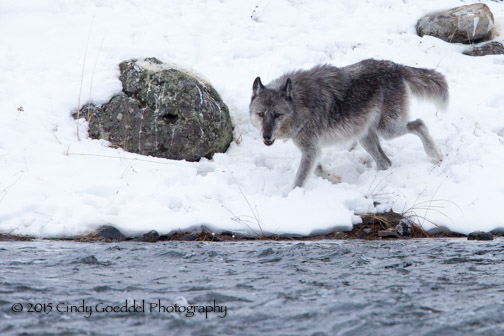 Bobcat Hunting Muskrat.

Those that have photographed the Madison River felines with me know how intoxicating it is to watch and photograph them. Clients have been known to be happily half buried in snow for hours, at minus quite a few degrees, without food or drink and then emerge smiling at the thought of thousands of bobcat images to 'Bridge'. This bobcat slowly and carefully stalked an above-water muskrat, as round and brown as the river rock in its camouflage suit. Every eye was pressed to the viewfinder with frozen shutter fingers firing away as the cat inched closer, sprang into the river and just missed an afternoon meal.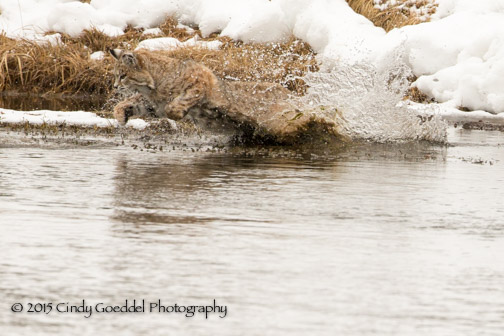 Beavers Breeding.

This was really interesting. The male made a sound very similar to that of a male moose in rut, I guess that's why they have a different breeding season! Anyway, the male took his job seriously, while the female beaver kept swimming around wondering just what there was to eat next.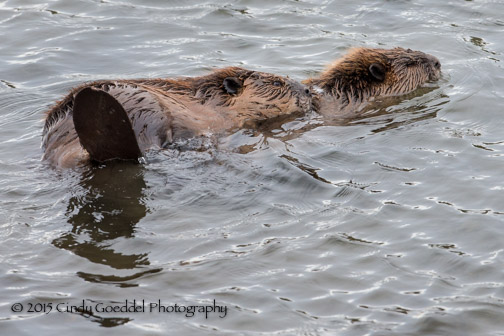 And in fact, the following day the female appeared and for ninety minutes proceeded to eat everything of vegetable origin in sight as fast as she could shove it into her mouth.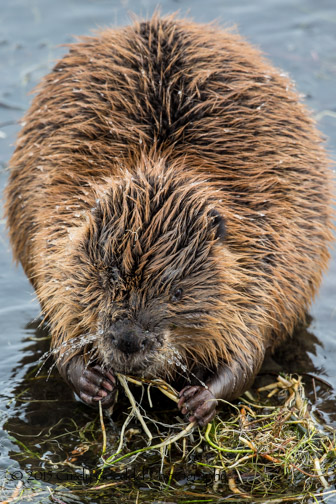 Fox Mousing.
We were able to photograph and enjoy a Red Fox perform five mousing jumps. Recent research suggests that red fox use not only their acute hearing to pinpoint their prey's exact location under the snow, but that they also employ the Earth's magnetic field as a rangefinder to plot their trajectory.


---

Every time I set off for my Winter Workshops I'm nervous, hoping that everybody will get to see and photograph what they have been dreaming about. And every time Yellowstone comes up trumps. Whether it is wildlife, their behavior, weather phenomena, diamond dust or many other Wintery sights, I never cease to be amazed at the wonderful surprises that Yellowstone has to offer at this time of the year.

It is a magical season, think about experiencing it sometime!