Blog
Sep 5th, 2013
OK, I'm back and straight into the thick of guiding photographers in Yellowstone. It's great to be back in Montana and The Park - the noisy and dusty Bison Rut continues, the bugling of the Elk Rut is echoing through the valleys, the crowds are thinning and the Fall colors are beginning to develop. However, before I am absorbed into the ever-changing miracle of Yellowstone, I thought I ought to tell you about the final few days of my stay in the UK.
There are a number of reasons why my intended and I are incompatible: Canon -v- N*k*n;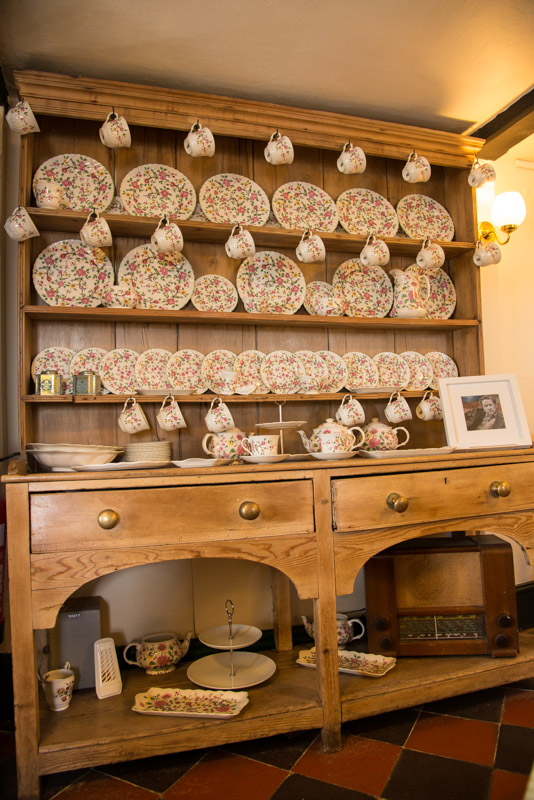 jalapenos and ethnic food -v- bland English rubbish; supreme patience and tolerance on my part -v- infuriating opinions on his; and much more that it would be too sordid to reveal, however, I think I have just about got the measure of his odd ways and have decided to run with them – for now!
You know me, surfer and beach-lover, but not him, or so I thought. Every time I tried on previous visits to get him to detour a few miles to the nearest beach he stubbornly muttered about distances in the UK being deceptive, dreadful weather, sewage, pebbles, cold water, awful people and … ... ...
Last year, after a particularly well-fought onslaught on my part, we did eventually visit a beach in Devon – it WAS rather further than the map suggested, was entirely devoid of sand and sun, was freezing cold, was being attacked by a murky green sea, and was populated by some rather strange people who sat behind wind-breaks brewing tea. I gave up.
But only until this trip – I was informed by one of his friends that there was surfing in Cornwall, but he got quite irritated every time I demanded that we pop down to the South West for a few days; no time, too far, too busy at this time of the year. However, my hopes were raised when he said he had planned a short mystery break for my last week.
We ventured to Lincolnshire the week before, where he insisted we visit the huge discount fashion store to get me a "decent waterproof" – it could only mean that we were going somewhere where it was going to rain, and Cornwall can be notoriously wet. On the night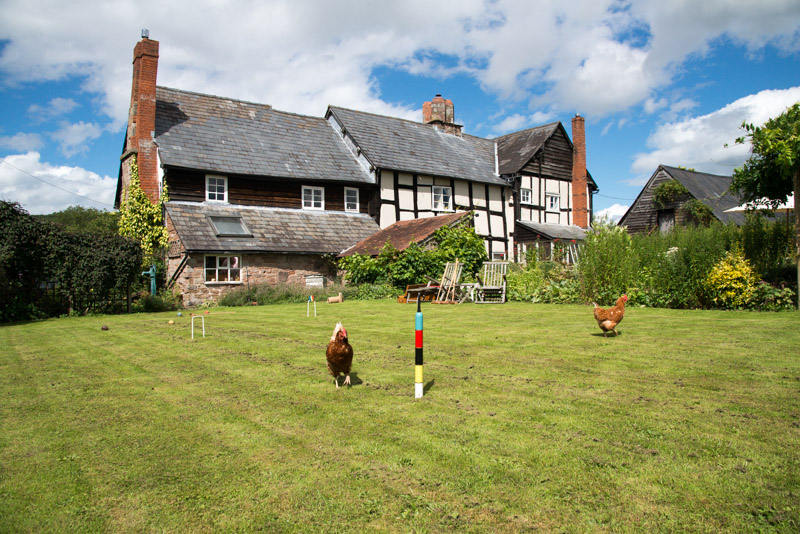 before departure I was surprised to be informed that I should pack a number of "smart outfits" as well as my usual outdoor attire

I must admit that I had not expected to spend the first day within an hour of Cheltenham worshipping at a village church, followed by tea, Pimms and French white wine by a Croquet lawn. He cheats!! Who ever heard of anyone playing by the Hurlingham Rules and not being allowed to put a foot on your ball when launching an opponent's ball into the shrubbery? I will not flatter his ego by revealing the result!!
You can imagine my alarm the following morning when, already heading West, he casually asked whether I had brought my passport. You will note it was not South West, we were not heading for Cornwall but for Wales. His little joke! There is no border post. Wales, despite much continued grumbling by the Welsh, ceased to be a Principality in 1282 and was formally integrated into England in 1542, technically there have been no Welsh people born for hundreds of years. But don't tell the Welsh that, nor will I start on Scottish history!
Having passed through the beautiful scenery of the Brecon Beacons in glorious weather, we arrived at the coast, or what would have been the coast if it hadn't been a tidal estuary, mudflats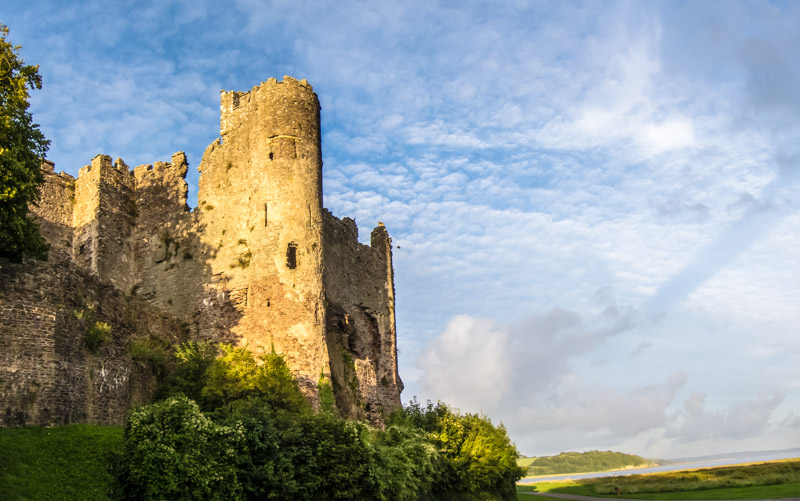 for miles and certainly no beach. Laugharne does have a dramatic castle however. So, after dumping our bags in Brown's Hotel, which I discovered had once been the rather seedy drinking haunt of Dylan Thomas the famous Welsh poet, we walked below the castle, along the estuary path, past Thomas' 'Writing Shed' and took tea and welsh cakes on the terrace of the 'The Boathouse' where he had lived. Thomas made four visits to the US – he needed the money to fund his impecunious and alcoholic lifestyle, and it was in New York in May 1953 that he made the first ever recording of 'Under Milk Wood', the story of the sleepy seaside town of Llareggub. On his final visit in November of that year he was suffering from pneumonia, which wasn't helped by the New York smog and the three doses of morphine administered by the doctors when he fell into the coma from which he never recovered. He was only 39. I tried to listen to some of that recording of 'Under Milk Wood' – but couldn't understand a word of it, even though I am told it was being read in English! By the way, reverse the name of the seaside town.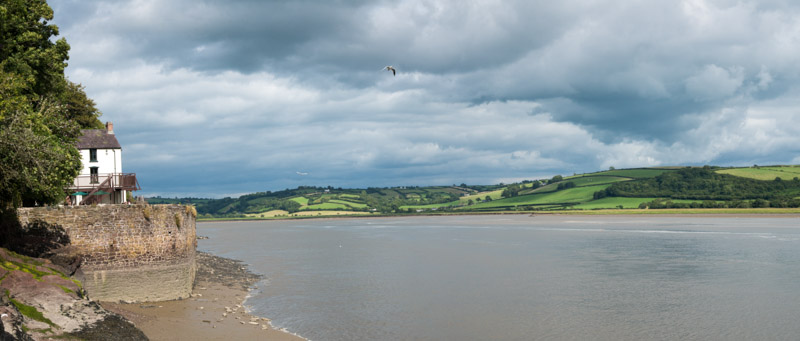 Early the following morning, we left the newly and beautifully refurbished 'Browns' for the real coast of Pembrokeshire. Apparently himself was on a nostalgia trip, having served on a fighter base there many years ago, where he also looked after American personnel working at a then top secret USN Cold War facility which tracked Soviet submarines. Can't tell you any more or else I'll be shot, but I can tell you he does like some beaches after all, and what fabulous beaches!
St David's is the smallest City in the United Kingdom and the home of an 11th Century Cathedral, which we drove straight past, not just because of the hordes of tourists and over-flowing parking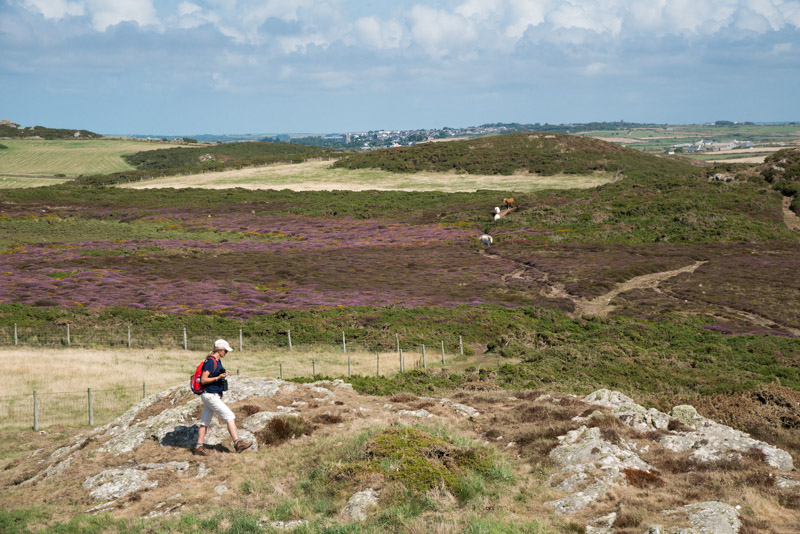 lots, but also because we wanted to start hiking the fantastic 186 mile Pembrokeshire Coastal Path before the weather faltered. The trick is to choose a section where you don't have to retrace your footsteps, so 5 or so miles around St David's peninsula, the most Westerly part of the Welsh mainland looking out to Ramsay Island, was perfect. And if you get 200 yards from a parking lot, you meet no-one but wild welsh ponies, seals and birds. Glorious! I even spotted a Chough, a rare bird that he had missed and has only ever seen once before. That's what a naturalist's training in Montana does for you!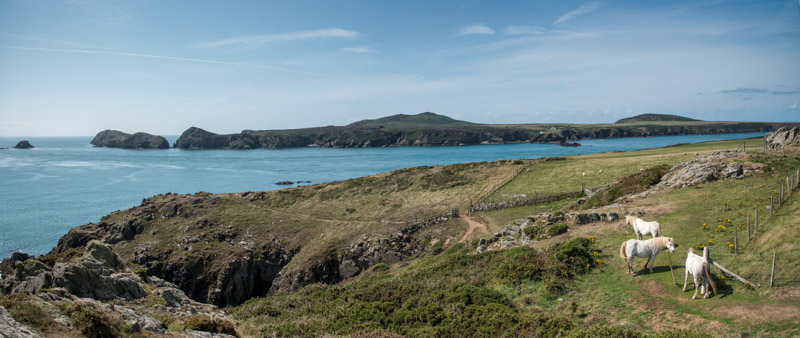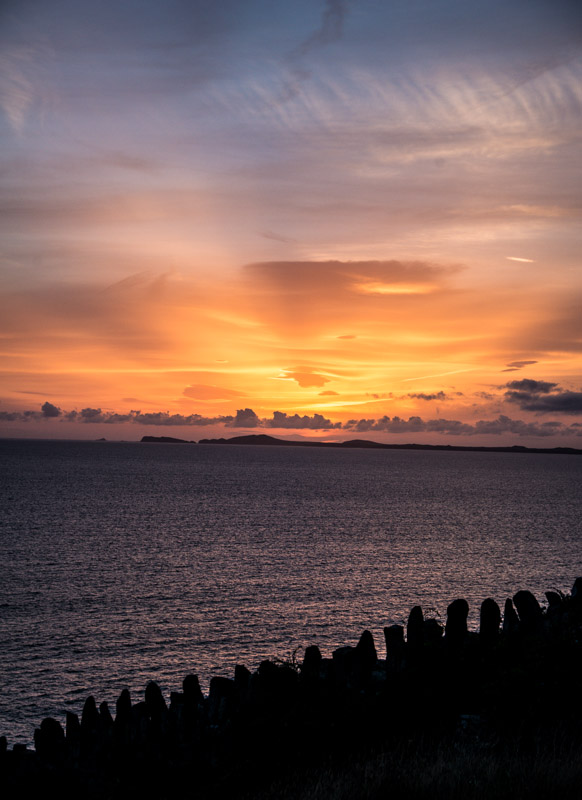 Overnight at a quirky hotel that is so laid back it is like staying with a host of happy mad relatives. It's hard to describe, but is full of all sorts of people and families enjoying the relaxed atmosphere, fabulous views from the Druidstone Hotel's cliff-top position, great wine and beer and delicious food. That evening as the sun set over the bay we sat down to an 'Asian Feast' served to about 50 guests, visitors and locals. It was fabulous, dishes from all over Asia, and even he enjoyed it until he chewed an insignificant tiny red pepper and acted as if the top of his head had blown off. I was in heaven, but the sight of tears streaming down his face on the veranda when he ran out for some cool air must have been pitiful. Copious cold white wine seemed to help, and he eventually regained enough of his taste-buds to eat a large portion of Brownies and ice cream, not sure where about in Asia that comes from!



The weather did falter. The following morning we walked along the wonderful Druidstone Haven Beach in the cloud and spray under an unremitting gray sky, but we had miles of beautiful beach to ourselves apart from seagulls and a few little crabs. If only the sun had shone I might still be there.



After fish and chips at his old second home, The Swan Inn at Little Haven, we drove slowly through the magical scenery of mid-Wales and back to reality. No I didn't get any surfing, but he has promised we will return for a longer stay next time. He will not get out of that one!
---

---