Blog
Apr 18th, 2017
On February 2, 2017, while guiding clients, I had the photographic opportunity of a lifetime. A bobcat successfully stalking a drake mallard on the Madison River in Yellowstone ...
The temperature hovered around zero degrees, it snowed most of the day, but occasionally the sun battled through and it shone weakly for short spells. For nearly 5 hours, we photographed him as he hid, stalked and hunted along the Madison River.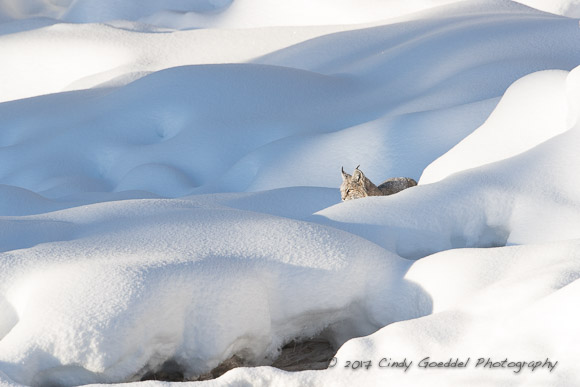 Three Canada Geese and a few ducks floated back and forth in front of the bobcat, which was hiding in the base of a rock. Not making an attempt on any of them, he was careful not to reveal his presence. Hours passed. Then, he locked eyes on a drake mallard several hundred yards downstream. He watched patiently. Quickly moving closer, out of sight in a deep bison trail along the river, he paused and watched the mallard's behavior. Satisfied, the bobcat crept yet closer without alerting a red squirrel, mountain chickadee, goose or the target mallard.
In time, under the cover of deep snow, he placed himself unnoticed just above the dabbling mallard.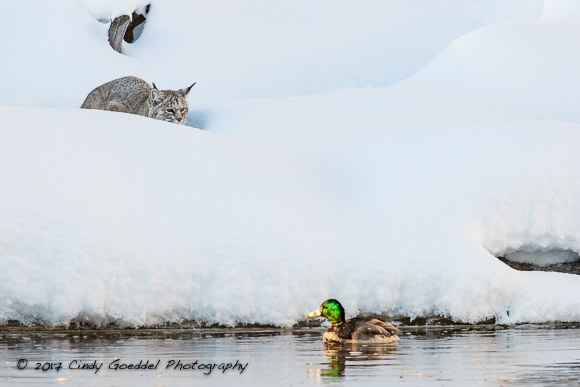 For nine interminable suspenseful minutes, the bobcat just watched as the mallard circled immediately below him – back and forth, back and forth, nine or ten times! The anticipation and tension was enormous. Finally, when the mallard's head was down, and its vision blocked by a short snowcapped snag in the river, the bobcat leapt.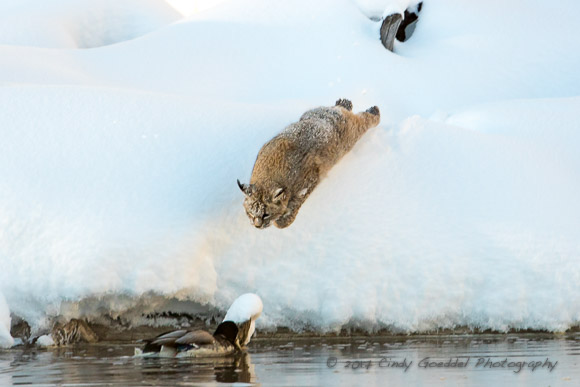 The battle in the water lasted nearly a minute before he dragged the still struggling drake out of the icy water.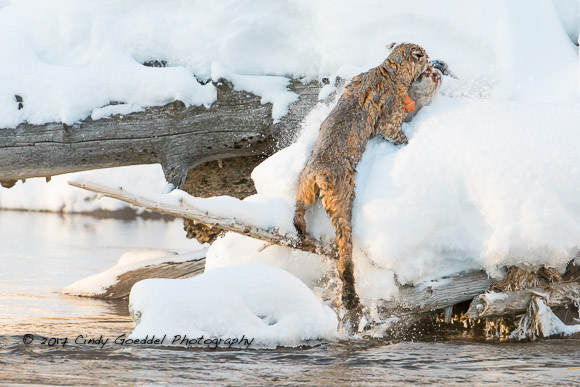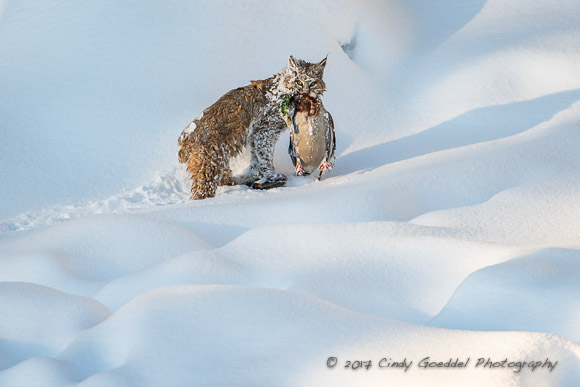 ---

I have photographed Bobcats in winter landscapes along the Madison River in Yellowstone National Park since 2014. Join me next winter on one of my Yellowstone Winter Photography Workshops. Wildlife photographed last winter in Yellowstone included: bobcat, ermine, beaver, coyote, trumpeter swan, otter, bison, fox, bull elk, pronghorn, moose, bighorn sheep, mule deer, marten, and lots of birds.

---

Postscript:
One of my images of a previous stalking of a Mallard by a Bobcat on the Madison River is at
Page 67 of the recently released BBC Book 'Planet Earth II'.