What People Say
Tours & Photography
I have finally come up for air after the fantastic week I spent in your presence. The trip was the perfect combination of physical, mental, intellectual and spiritual activity. The grandeur that is Yellowstone, off the beaten path, in the winter is something that can only be experienced in person. Your teaching technique is the perfect blend of fun, strictness, humor, patience and passion, but not necessarily in that order. I left with a need to know more. Your passion for the wilderness, wildlife and photography is palpable, your attention to detail incredible. And did I say we laughed and had fun every day?
The individual attention you provided was perfect – I felt as if I was the only person on the course, but I am sure that each person felt the same. My camera is becoming my friend.
I am thrilled that I stayed on for the Lightroom class. It was the perfect adjunct. My fear of the digital menus, and the snow, is a thing of the past. I could hardly wait to get home to practise what I learned with you. I will never forget the experience.
Susan Cooley. Houston, Texas.
I would like to thank you for all your effort and organization in making the Yellowstone winter trip a huge success. I know that I enjoyed every day of the trip and think that everyone else in the group did as well. Yellowstone in winter snow is spectacular and uncrowded, and the trip provided many, many great photo opportunities. Before setting out, I had some trepidation about a tent camp in the winter, but the tents were warm and the food was excellent. However, the best part of the trip was your patient and thoughtful photography instruction. With your guidance, I think that I have moved from general reliance on Av or Tv mode to using manual exposure full time, and now I understand how best to use and rely on the histogram. Your encouragement and advice throughout the trip were a great help to me, and I appreciate your willingness to work individually with everyone on the trip.
John Warden. Nevada City, California.

This fall we thoroughly enjoyed a 4-day photo tour of Yellowstone National Park with Cindy. Her passion and respect for the park and all of its diverse beauty is evident. In addition to sharing her knowledge of the flora and fauna as well as the geological history of Yellowstone, Cindy was a superb photography instructor. She turned Susan into a full-time manual shooter on a tripod (no small feat!) and helped her finally understand depth of field. Cindy showed us both the possibilities of a super telephoto lens, not just for wildlife but landscapes too. Her intimate knowledge of the park ensured we captured images in optimal light and from atypical perspectives. From sunup to sundown we explored Yellowstone, had many laughs and filled up memory cards with wonderful images we likely never would have found on our own. Exceptional!
Doug & Susan Thierman. Calgary, Alberta.


Marie and I would like to thank you very much for the excellent two days we spent with you in Yellowstone National Park. You had us in the right spot at the right time every time. Plenty of action. Your training was superb. My shooting has really improved with the techniques you taught us. Marie had a great time as well and I think continues to find a deeper interest in photography. Thanks again, see you sometime in the future I hope.
Paul & Marie Nasipak. New York.

I spent two days with Cindy Goeddel in the Lamar Valley of Yellowstone. She loves to share her experiences and knowledge of photography. In addition, not only was she a friendly and easy-going individual, but her intimate knowledge of the locations around the Lamar Valley was truly staggering. Her love of the valley, animals and photography shows through with her one-on-one instruction. I learned so much in the short two days that I spent with her. The landscape, animal and Lightroom photo techniques have really helped expand my photography to a new level. I would suggest this trip to anyone interested in a great photographic learning experience.
Vicki Athens. 
Grosse Ile, Michigan.

My first tour with Cindy was the opportunity of a lifetime! Now it's tradition. She has an incredible talent for capturing the beauty and wildness of Yellowstone. She continues to help improve my photography skills while enhancing my love of wildlife and respect for nature.
Tell Dietzler. 
Missoula, Montana.

I hired Cindy Goeddel for a 2 day, one-on-one, workshop at Yellowstone because I really liked the photos she had posted on her web site. I discussed some points I wanted to cover and she critiqued some of my work to look for areas in which I could improve. Armed with that info, she prepared what turned out to be both a great workshop and a great time. The shots on her website testify to her skill. What it doesn't tell is how personable she is, what a great instructor she is and also how great and fun she can be as a tour guide. We worked on the subtleties of focus and depth of field, understanding how to create depth and to use the lines nature provides to create eye movement. She diagnosed my weaknesses well and put together a program to point me how to overcome them. In addition to that, my girlfriend and I got to have great discussions with Cindy about the geology, wildlife and flora at the park. I am convinced we saw things that we may not have seen without her. I highly recommend her as an instructor and guide.
Larry Klink. 
Marietta, Georgia.

I shot with Cindy for just a day and a half and I was truly amazed by her technical knowledge, creative photographic skills and her ability to communicate with her students. I have taken several other classes and I have yet to find someone with such balanced strengths.
Carl Henry. 
Houston, Texas.

I feel very fortunate to have made the decision to attend your class. I don't get to spend as much time with my photography as I would like but you made me feel like that was OK. I didn't have the caliber of equipment, but you not only made me feel like it was OK you let me use your lenses! I was lost with Lightroom and have never used Bridge and you provided a step by step means of organizing not only the images I captured with you but my whole library. The class was an artistic outlet and learning opportunity but most importantly, for me, it was an opportunity to meet really nice people and be in a magical place. I refer to it as a trip of a lifetime, but I hope it is only the first trip of a series of visits. Thanks again for your hard work and your willingness to go the extra step to make me feel welcome. I enjoyed every minute of my trip (well except for the few minutes trying to get dressed on the edge of the Yellowstone river after the soak in the boiling River!!! No, even that was entertaining!!) I have stories to tell about that trip for years to come and I appreciate the effort that you put forth to make sure I learned and enjoyed my time in Montana.
Jim Marugg. 
San Diego, California.
---
Lightroom Workshops
Cindy's Lightroom class has truly revolutionized my workflow. As a professional photographer for the past 15 years, I had always only used Photoshop for processing photos. What I really needed was a way to create a searchable, user-friendly database so that when clients call looking for images, I can find them with a keystroke. Her Lightroom class brought me quickly up to speed on a fairly complex system. Now I can process photos, label them, store them and easily retrieve them, all while maintaining the highest quality photographs.
Erik Petersen, Photo-journalist. Bozeman, Montana.

Best Dollars Spent! The Lightroom training I took through Cindy Goeddel had the best return of any investment in my photography business. Not only did Cindy show me how to transform my workflow to save me dozens of hours per month, but she answered all of my follow-up questions in a timely manner without hesitation. I would highly recommend this training for any photographer.
Paul Bannick, Author/Photographer. 'The Owl and The Woodpecker.'

Cindy worked for me for several years and she is my expert on Lightroom. My 35 plus years of film and digital photographs are now organized and in Lightroom. She is very knowledgeable about the program and getting it to do what I need it to do. Her workflow is efficient and proven. Her class would be valuable for beginners and advanced users.
Tom Murphy, Author/Photographer. 'The Seasons of Yellowstone.'

I've been taking private lesson to learn Adobe Lightroom 3 from Cindy for several months now. She's a patient, understanding instructor who doesn't make you feel stupid when you can't recall something she's been emphasizing. Her helpful workflow chart provides documentation for homework assignments in between lessons. I'm the type who learns from being shown how to do something. I couldn't have learned this advanced program without Cindy teaching me step-by-step. If you want to take your photography to the next level you need to shoot RAW images and master Lightroom 3. Cindy can help you accomplish it whether you're in Bozeman, MT or anywhere in the world.
J. Michael Connell. 
Bozeman, Montana.

I have worked with Cindy for several months now, and my knowledge and abilities using Lightroom have grown enormously. Her process of working with a phone and iChat is just like having your own private expert sitting next to you. It's great!
John Huss. 
St. Paul, Minnesota.

Cindy Goeddel is an established award-winning photographer, passionate about wildlife and its recording, who has developed a fool-proof workflow for Lightroom which ensures that your images are catalogued, optimized and stored, but always immediately available. On one of Cindy's two day courses with other amateur photographers, as well as having a lot of fun, I learned the necessary skills to bring order to the 1000s of images that were chaotically hanging around my computer! Cindy has a vast knowledge of the programme and teaches its use in a patient, logical and structured way that allows you to keep up whatever your level of competence. I came away with the knowledge to become fully proficient in Lightroom, and learned a lot about how to take and develop great photographs. Most importantly, for someone who despairs of his memory, I left clutching comprehensive handouts, notes and a keyword list that Cindy has available that will save you hours of work! If you are serious about your hobby of photography, and want to take it that step further, book onto one of Cindy's courses.
Little did I know when I wrote that for her, I would end up marrying the girl! Honest!!
John Thornton. Cheltenham, England.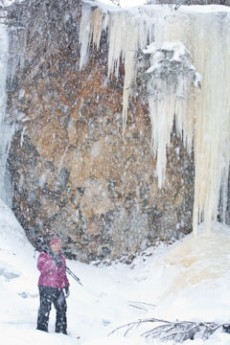 Great Experiences