About Cindy Goeddel
Cindy Goeddel ~ Biography
Cindy Goeddel is a professional photographer, naturalist, hiker, guide and student of ecology with a fascination for the wonders that abound in Yellowstone National Park. Her passion lies in creating images that convey the story, mood and spirit of wild places and creatures, and in inspiring others to humbly protect the wilderness and land we all share.
A Lifelong Wilderness Enthusiast, backpacker and backcountry skier, she began her photographic career in 2005, and in 2008 began a mentorship with Tom Murphy. Cindy leads photography tours in Yellowstone National Park and, as an Adobe Certified Expert, is able to provide the ultimate in digital asset management and workflow training using Adobe Lightroom and Photoshop.
Her Images are Published in National Wildlife, Audubon Magazine, Montana Outdoors, Montana Quarterly, Montana Magazine, Greater Yellowstone Advocate and many other publications. Her fine art photographs are in numerous private, non-profit and academic collections. She is an instructor with the Yellowstone Association Institute.

Awards
'First' in National Wildlife's International Photography Contest Plants and Landscape Professional Division.
'Best Photo' in the Mountain Flora and Fauna Category in the Banff Mountain 2009 Photography Competition.
'Highly Commended' in the Natural World Category of CIWEM's Environmental Photographer of the Year 2009.

Top 100 Image in the Audubon Magazine 2012 Annual Photographic Awards.

Videos
The French Connect with Yellowstone and Guide Cindy Goeddel
Cindy has 7 hours to guide a TV crew from the French travel program 'Echappees Belles' on a whistlestop tour through Yellowstone.
Heading to Yellowstone National Park
Join Cindy on a tour of Yellowstone National Park and see what it is all about.
Lightroom Training with Cindy Goeddel
Learn why you need to be organized from some who have been!
Yellowstone National Park Ecology
Professor Bob Garrott of the Ecology Department of Montana State University talks about ecology in Yellowstone and the role of photography.

Artist Statement
I Photograph What I Experience, both visually and viscerally, focusing on the story, mood and spirit of wild places and their creatures – themes that reflect the rhythm and harmony of the land and its inhabitants. Wilderness and wild places are disappearing at an alarming rate for reasons that are neither compelling nor sound; my photographs come from a combination of my joy at all things wild and my grief at seeing it fade irretrievably away.
Yellowstone ~ sacred, beautiful, mysterious, harsh, unpredictable ~ is an 'Exaltation of Wonders', a photographic journey reflecting my love and concern for the World's first National Park that I began in 2006 and which continues ……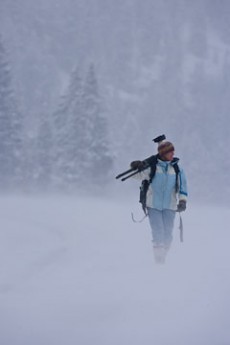 Photograph - Tom Murphy


Passionate in all she does